This is me in the sun:
Its been sunny in Austin for about a week. And like the flowers, I say its about damn time!
I don't do well in the cold. I hurt. My teeth chatter. My fingers get stiff. You know what else happens? I complain. I complain A LOT. But it does no good. Spring comes in its own time. Seems like it took quite a bit of its own time this year and I would lodge an official complaint if I knew who to complain to.
My definition of cold is, ummm, probably not yours. I'm cold when its below 70 degrees (that 21 degrees for all you non-Fahrenheit-using readers!). Yes I know. I'm chilly all the up until the high seventies. I don't even think about air conditioning until temperatures reach the mid 80s. Why am I such a cold-natured freak?
Explanation Number One: I think I have reptile DNA in me.  I might, in fact, be part-snake.
A perfectly HARMLESS ribbon snake. Don't freak out.
When I see a lizard or a snake sitting on a hot rock in the sunshine I always stop and think "Yeah buddy. That's the good life right there. Wish I had time to sit around on hot rocks." Us cold-blooded creatures need that sunshine (and coffee) get us warmed up and moving in the mornings.
Explanation Number Two: It could be heredity. I come from a family of thin people who are mostly always cold. My dad was thin. Muscular, but in a thin sort of way and he was always freezing in the winter and out worshiping the sun in the summer. My brother is painfully thin (he has to eat like a professional athlete just to keep his weight up) and always cold. Then there is my mom. She is a skinny little thing and the only person in the whole wide world that is more cold sensitive than me. At her church there is a blanket for her to sit under year round.
Explanation Number Three: The doctors say its my low standing heart-rate (which everyone in my family has) and my lupus. Have I mentioned I have lupus? I do technically but I'm healthy now and strong and haven't had a flare up in years. That condition doesn't slow me down much these days. But, "having a permanently compromised immune system has damaged your endocrine system and the body's ability to self-regulate temperature… " Or something. I mostly tune that stuff out.
Personally I think its a result of reptile recombinant DNA mutation. That's the mostly likely reason, right?
Or maybe its bug DNA that I have. I notice all the bugs come out and buzz around in the blazing sunshine.
Or cactus. I could be a human-cactus mutant. Cactus manage to be pretty and very intimidating at the same time. That wouldn't be too bad at all.
---
PS: I took all these pictures, even the snake-y one. That's what this post was, an excuse to show off pictures off living things soaking up those glorious sun rays. I've been doing that every chance I get, sitting out in the sun, feeling its heat on my skin, drinking warm tea (its not hot enough to put ice in my drinks yet!) and knitting. Sometimes I make little happy groaning sounds too.
I hope everyone else is enjoying a spate a good weather. If not, you could always come to Austin. I'll find a place for you in the sun. I might even be able to come up with a nice hot rock too.
---
PSS: Remember that post on how to cheat at picking colors? If you run the sunflower picture through the Sherwin-Williams Chip It! application it comes up with some lovely colors. I do like that Tansy Green to Obstinate Organe to Roycroft Copper Red set. It gives me ideas.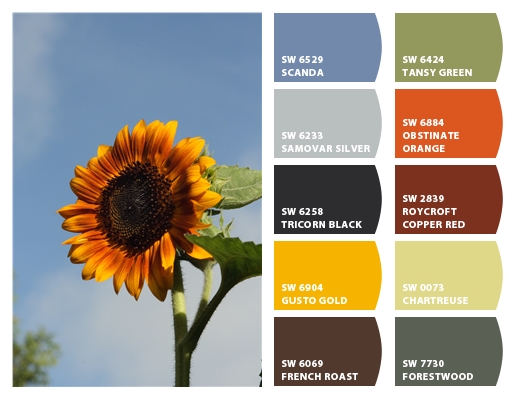 ---

Want a link to this post?