The knitting of socks takes discipline. You can jump into it all willy-nilly without a care or a plan. I've done that. It doesn't turn out well. I'm picky about how my hand knit socks fit on my fit. Actually I'm very picky. Among the 7 billion people who live on this planet, there are probably at least four who never notice when their socks slump down or sag in the toe or bind on the instep. I'm not one of them. And when I'm knitting socks for myself I want them to be just they way I like.
Getting socks just they way I like takes discipline. None of that wily-nilly stuff. None of that grabbing any old yarn and any old needles and letting the stitches fly. Save that attitude for when you make a scarf. For a nine year old boy. Who won't notice anything besides its color.
In The Discipline of Knitting Socks there are a few steps to take before you actually start knitting socks.
Step 1) Get the right pattern.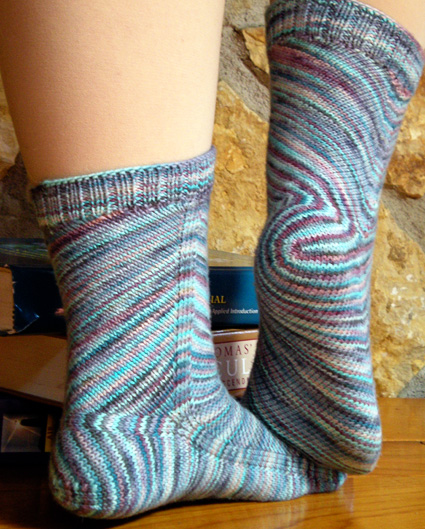 Did I hear you say "hmmmm"? Yeah those are pretty interesting. There is some definite sock-itechture going on there.
This is Skew. Its a free pattern by Lana Holden. The whole sock is knit on the bias and that heel is something I simply have to try.
Step 2) Get the right yarn
Did I hear you say "oooohhh"? Yeah its crazy beautiful hand dye that a friend of mine made. If she ever gets off her butt (she reads this blog, btw) and starts selling her stuff (and I'm taking this opportunity to nag her) then I'll be sure and let you know.
Step 3) Get the right gauge.
Did I hear you sigh? Typical! lol Gauge haters are everywhere.One time I was sitting at the class table with a knitter, who had just described her efforts to test-cook in advance every single dish that she planned to served to her family for Thanksgiving Dinner… tell me she couldn't bother with knitting a little swatch before starting her sweater.
I don't get it.
But gauge is key to getting a sock to fit right, so I swatch. If you are at all open to the idea of spending 30 teensy-weeny minutes to get the right gauge before launching on a week or more of knitting… be sure to knit that swatch in the way you have to knit the project. I'm making my socks in the round (obviously!) with magic loop. So my swatch has to be in the round, magic loop.
Step 4) Break the yarn into two balls.
I make socks two-at-a-time. Always. Its the only way I can get a pair done. For these socks I'm magic-looping so I'll have both socks on one set of needles. But even when I make socks on double pointed needles, I make them two at a time. I have a sock going on one set of dpns and a second sock going on another. So the yarn has to be rewound into two half-balls and that's okay because winding yarn is fun! 
---
Okay. Now I can get started actually knitting socks.
It might seem like a lot of fuss and botheration but knitting socks is serious business. You're with me on that, right? Right.

Want a link to this post?