Every time I re-produce a vintage pattern here on this blog I tell myself. "There. Now its saved for all time and will never disappear!" People have probably been telling themselves exactly that since 1440 when Gutenburg showed off his printing press to the Holy Roman Empire. Still, it is a good feeling to have some vintage in the digital age, especially vintage knit and crochet patterns. By scanning and sharing I know that I'm keeping those faded and yellowing patterns in circulation for a little while longer.


Superfine Project Bag – $8.99
from: Knit Picks
I've published vintage patterns twice before in the past month or so. You can find those posts here and here. They seem to have been well received so I must not be the only hoarder of all things vintage out there. I guess this is becoming a semi-regular thing.
---
The Rambler Rose Hot Plate Mat
by: The American Thread Company, published in Leaflet No. 1024
Here is a link to download the two page pdf file.
June 9, 2016 – I had to remove that link. Sorry. The third part site I was using to host documents for download was compromised. When I have a new host site, I'll fix the link. 
---
Stitchers ordered these pattern leaflets and their supplies (usually) through the mail. We may smile at the idea of paying only a quarter for a pattern today but believe me when I say those thread companies knew what they were doing. The American Thread Company was not some mom and pop mail order operation, it was Big Business.
The American Thread Company formed from the merger of thirteen New England based companies in 1898. That must have been quite a merger and quite a pain in the butt to make happen. But it was necessary because those New England thread companies were getting creamed in the market place. Two years earlier three Scottish based companies had teamed up to become Coats and Clark  (today they own Red Heart, Rowan, Susan Bates…) which spurred about a dozed English based companies to gang up to become the English Sewing Cotton Co. Yep, the beginning of the 20th century was an age of mega thread companies! There was lots of money to be made and competition was pretty fierce.
The American Thread Company moved in the The New York Wool Warehouse on West Broadway in 1898 and did business there for decades. Its a beautiful building, a dozen stories tall (I think), and on the National Register for Historic Places. Today its been turned into condos.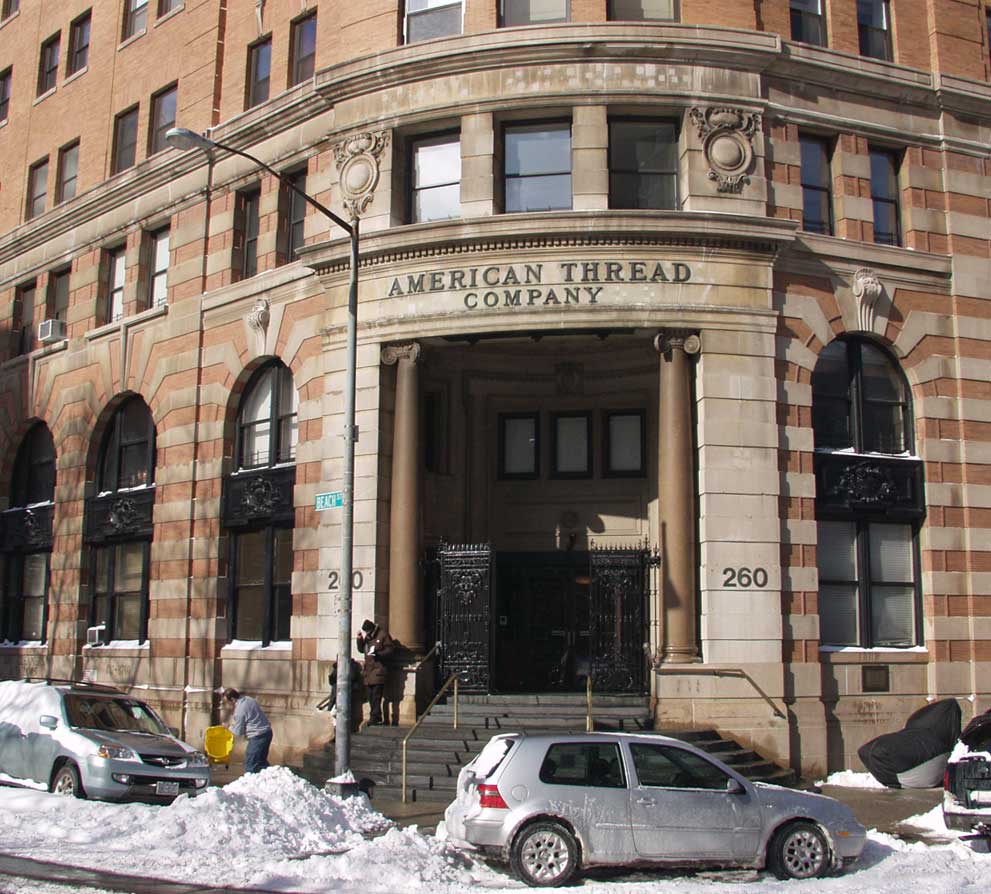 In 1913 the US government slapped the American Thread Company with an anti-trust suit for price gouging. In the 1920's they opened their first southern factory, located in Georgia. By the 1950's over 5000 people worked for the American Thread Company. But in the 1980's plants started closing and now they are no more. Coats Industrial (of Coats and Clark) is the leading manufacturer of thread today.
But we still have the Rambler Rose Hot Plate Mat crochet pattern! And what a beautiful, intricate, and completely impractical pattern it is. Enjoy!

Want a link to this post?