I'm at that point in my Pie Are Square shawl* that its just me and the shawl. I'm alone with this knit. But I don't mean that in the depressing way or even in the physical way. I mean that it's all scrunched up on the needles and no one can really get a good look at it.
The shawl has gotten big enough that it can't be spread out or examined or shown off. No one looking at it can tell how big it is. Most people, especially non-knitter people, can't even tell what general thing my knitting will become. I could tell them its a baby blanket or a in-the-round cardigan or a sleeping bag. They would have to take my word for it.
They also have to take my word for it that this knitting is going well and coming out just they way I'd hoped. I can see my shawl… but only in my head. I've pieced together a picture of it from watching it pass, inch by inch, under my hands as I knit row after row. I know its shape, its general size, and how its going to drape. But no one else knows that because I'm the only one knitting on it.
I'm alone with this knit. That's how I think of it. When its done, in fourteen months a few weeks people will be surprised at how it looks. That includes the people who have seen me knit on it. They can't tell how its turning out. How could they? For everyone except me my knitting looks pretty much like this:
I think they will be surprised at how big it is and how much of this shawl is dedicated to crossing and overlapping in the front. I think they might even be surprised when it actually done. After all once a project reaches that scrunched up on the needle stage it seems as if the knitter makes no progress.
One day it looks like this:
The next evening it looks like this:
And only I know that the shawl is a whole third of a skein bigger. It only seems like nothing is getting done. But it is. I know that because I, and I alone, am alone with this knit. But that's okay. We get along just great.
---
* The Pie Are Square shawl is an adaptation of its more famous cousin: The Pie Shawl. It a design by Elizabeth Zimmermann and she published the instructions for it's basic form in her book Knitting Around (and when I went to add that link I noticed that it and all books are 40% off at Knit Picks at the time of this writing). Its a great book full of her patterns, her "unventions" and plenty of digressions that wander far from the topic. You can make the Pie Are Square Shawl in any yarn, to any size. Plenty of knitters have jazzed it up with cables and lace but I'm sticking to the basic form. I'm going to go with a simple, saw-tooth border (probably), but overall my Pie Are Shawl should come out like this: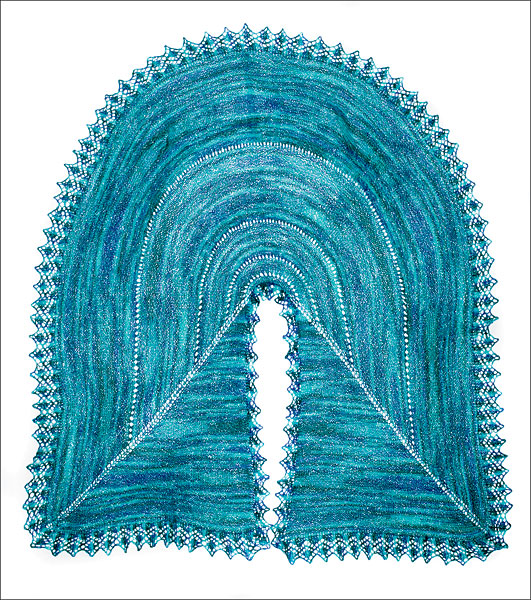 Want a link to this post?