This post contains affiliate links. 
Those Shetland knitters sure knew a lot about lace knitting. They knew a lot about knitting period. For centuries they had a long tradition of "plain" knitting, which was the making of wool socks, caps and (I'm sure) sweaters. Those were for local use and for bartering with desperate and freezing foreign sailors that turned up on their shores. Shetlanders raised their own sheep, a hardy breed that made short and soft wool, so knitting was a self-sustaining local industry. 
In the later half of the 1700's someone must have shown the Shetlanders some fancy, delicate lace. They looked it over and said "Sure, we can make that. But its going to cost you." The Victorians, including Queen Victoria, handed over the money and thus was born one of the grandest lace knitting traditions.
Shetland lace knitting was professional knitting. It was production knitting. Its lace that looks amazingly beautiful but it works up fast. There is just something about the Shetland lace patterns. When I knit them, they seem to flow. They make sense. After a few repeats, the pattern becomes effortless. I'm telling ya, those Shetland knitters knew their stuff.
Shetland Glory is a shawlette, made with one skein of yarn, in the Crown of Glory pattern. The Crown is made with a big open eyelet and six points. Its sometimes called "cat's paw" but that's misleading. Not only do cats not have 6 toes, but there exists a separate and unique Cat's Paw pattern in Shetland lace. The proper name for this motif, that doesn't lead to mucking up internet searches, is Crown of Glory. Its a Biblical reference, which mentions the Crown of Glory in several places including 1 Peter 5:4
And when the Chief Shepherd appears, you will receive the unfading crown of glory.
But while we wait for Him to come, you can have your knitted crown(s) of glory, courtesy of those talented Shetland knitters.
---
Shetland Glory
Yarn: One ball of Chroma Fingering weight yarn, 396 yds. I made mine in colorway Manzanita. While this pattern should work in any fingering weight yarn, its width and gauge were designed for Chroma Fingering, for showing off the color repeats in that yarn.
---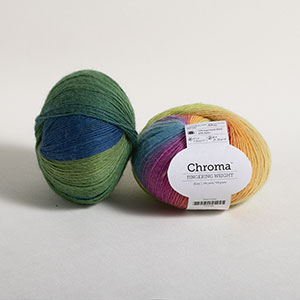 Chroma Fingering Yarn – reg $9.99 on sale until 05/03/16 for $6.99
from: Knit Picks
---
Needles: US size 6 (4mm)
Gauge: 24 sts = 4 inches (10 cm) in plain stockinette after blocking
Finished Size: 9 inches (23 cm) wide and  78 (198 cm) inches long after blocking
Additional Resources: 
---
Stitch Key
k – knit
p – purl
Sl – With yarn held to the back, slip one stitch from left needle to right needle as if to purl.
ssk – Slip two stitches one at a time from the left to the right needle as if to purl. Insert the left tip into the front of those two slipped stitches and knit them together (a decrease).
k2tog – Knit next two stitches together (a decrease).
p2tog – Purl next two stitches together (a decrease).
p2tog-b – Purl next two stitches together through the back loop (a decrease).
YO – Yarn over the right needle (an increase).
Inc4 – Into the next stitch work 5 new stitches. Do this by *k1, p1* twice and then k1 once more (an increase of 4 stitches).
W&T – Slip the next stitch from left to right needle as if to purl. Bring the yarn forward. Slip that same stitch back to the left needle. Put yarn to the back (this completes the "wrap"). Turn the work and begin next row.
PuW – The next stitch is a "wrapped" stitch. Using the right needle, go under the wrap from the bottom. Place it on the left needle. Using the (previously) wrapped stitch, and the picked-up wrap, k2tog.
BO – Bind off. Knit one stitch. Then *k1, use the left tip to pass the first knitted stitch over the second* and repeat as needed.
---
Some general notes:
Rows 9 and 10 are short rows. There is a "wrap and turn" on Row 9 and a "pick up the wrap" on Row 11.
There is a saw-tooth point made each repeat. That is done with an increase at the beginning of the first 5 right side rows and then 5 stitches are bound off in the final right side row.
Cast on 49 stitches.
Set up rows
1 (RS): Sl, k46, YO, ssk (49 sts)
2 (WS): k
3: Sl, k46, YO, ssk (49 sts)
4: k
Crown of Glory Lace
1 (RS): Sl, k1, YO, k2, *ssk, k9, k2tog, k1* three times, *k1, YO, ssk (44 sts)
2: (WS): k3, p1, *p2tog, p7, p2tog-b, p1* three times, k to end (38 sts)
3: Sl, k1, YO, k3, *ssk, k2 (YO x 3), k3, k2tog, k1* three times, k1, YO , ssk (42 sts)
4: k3, p1, *p2tog, p2, Inc4, p1, p2tog-b, p1* three times, k to end (42 sts)
5: Sl, k1,YO, k4, *ssk, k6, k2tog, k1* three times, k1, YO, ssk (37 sts)
6: k3, p1, *p2tog, p7* three times, k to end (34 sts)
7: Sl, k1, YO, k5, *k1, (YO, k1) x 6, k1*, three times, k1, YO, ssk (53 sts)
8: k3, p43, k to end (53 sts)
9: Sl, k1, YO, k33, W&T
10: p28, k to end (54 sts)
11: BO5, k30, PuW, k15, YO, ssk (49 sts)
12: k3, p43, k3
Work Rows 1 – 12 a total of 31 times… if your gauge is my gauge. If your stitches are wider/looser then you may not get the full 31 repeats before running short on yarn. But at 24 sts = 4 inches you should get the full length and have about 10 grams of yarn left over.
Finish off rows
1 (RS): Sl, k46, YO, ssk (49 sts)
2 (WS): k
3: Sl, k46, YO, ssk (49 sts)
4: k
Bind off all stitches, weave in ends and block. You can find a photo tutorial for blocking this lace right here. 
---
I'm ridiculously pleased with how my own Shetland Glory turned out and I hope yours turns out just as nice. My goal was to come up with a one-skein wonder of a pattern that resurrected an old-fashioned lace. And as I mentioned above, the width and the gauge are intended to ideally display the shifting colors in Chroma. Chroma is one of my favorite yarns and all the colorways have that one color stripe that is thinner than the rest.
It adds a pop of color which sets off all the other colors and I didn't want that to get lost. Since Chroma is on-average a third of the cost of hand dyed/specialty yarns, Chroma is… well, its hard for me to pass up Chroma.
If you like this pattern, you may also like Chromatism, a free knit cowl in Chroma worsted that uses Shetland Horseshoe lace. And while you're here, you might as well check out all my other free patterns right? Right.

Want a link to this post?