This post contains affiliate links.
I'm knitting away on my Pie Are Square shawl non-stop. Well, not non-stop, not really. I stop for meals and work and to sleep and to dash off a quick blog post. But this project has moved from my knitting-on-the-go project to knit-it-at-home-too project. I want it done. I'm always knitting on it now. I feel like I'm almost done.
I'm not almost done, not even close. But it feels that way. And every time I get close to the end (or I've convinced myself I'm close to the end) of a project, I knit fast. I knit faster and faster because I'm racing myself to the end. I do realize that's kind of silly but I can't shake it off. I have to beat Jenn to the end of this knit.
The end is a long way off but it doesn't feel that way. I only have 16 more rows and then I'll start the knitted-on border. Then I'll be done!
The rows are currently about 700 stitches though. Yeah. So at this stage in my knitting it seems like I knit and knit and get nowhere.
But I'm getting there really fast.
The only way to tell that I'm accomplishing anything at all is to monitor the cake of yarn. Its disappears. It disappears right into this monster of a garter stitch shawl.
That last cake of yarn got me 8 rows. Almost.
They took forever and I knit them like the wind. But then it was time to wind up a new cake, and I like that. Winding cakes is my happy place. 
Except I could not get right back to knitting. When I returned to my shawl, I found this.
So I paused just long enough to snap this picture. I knew you soft-hearted, kitty infatuated, readers would want to see it. And say "awww". And reflect on how much freaking cat hair must be on this shawl by now. Then I kicked her off that knitting gently picked her up and gave her a spot in the sun to lay on instead.
And went back to knitting. Really fast knitting. With coffee and some sporadic reading. I can read while I knit this because its 99.9% knit stitches and I don't have to watch my hands for that. So I'm reading the book that this pattern is published in, Knitting Around, while I knit. Knitting Around isn't a traditional "pattern" book, its more like a guide-book into the world of knitting and it makes for a nice read. I'm up to the point where Elizabeth decides to marry her Arnold and get him the heck out of Nazi Germany, out of Europe all together, and to the good ol' US of A (where we will love her and keep her and buy all of her future books). Also, that's where the chapter on how to make a mitten in four different ways starts. What can I say, its not an ordinary pattern book.
But all that coffee has to come out eventually. So I made a quick tip to the little girl's room and came back to find that a certain someone had stolen my chair. She was all cuddled up with her my Pie Are Square shawl and sleepy from having napped in the sun.
I swear if I keep stopping to take cute/bad cat pictures I'll never finish! And Jenn will beat me to the end.
---
Since mine is all scrunched up on the needles, I have to show you other people's Pie Are Square Shawls.
Mine will look more like the first, all garter stitch. But this is a pattern that you can personalize. Its a pattern that is explained in stages. First she explains how to make the basic shawl (which is what I'm making). Then she goes into how to accentuate the eyelets, how to modify the shape of the front panels, and how to add lace panels of your own choosing. Like I said earlier, Knitting Around is more like a guide book than a traditional pattern book. Elizabeth is your guide to getting you, the knitter, the knitting that you want (and along the way she stops to tell you about her amazing life.)
Knitting Around at Knit Picks (where it is 40% off at the time of this writing)
Maybe it will make more sense when my Pie Are Square is done and off the needles. Which will be soon! Just 16 more rows. And a border. And at least one more cake of yarn. Maybe two.
---
What are the Roving Crafter's buying?
When you make a purchase from one of my affiliates, I get a small commission. It doesn't change the final price at all but it does help support this site and keep it free. Here is what some of my readers have bought (and a big thank-you to them!).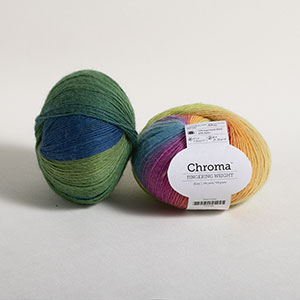 Chroma Fingering Yarn


Want a link to this post?