Here is a continuation of yesterday's post in which I'm whipping up headbands in a desperate attempt to combat the pile of frizz that my hair has become. Since I wrote that post… its rained again. Of course it has. And the helpful folks at google weather are telling me the humidity outside is running around 70%. I'm telling you, no amount of conditioner can tame my frizz in weather like this. The only course of action is to keep it all ruthlessly tied back with a scrunchy and squished flat with a headband.
Yes, this is one of those times when my knitting and crochet becomes more than a hobby. Its now a critical life skill.
Yesterday was crochet headbands for the hookers. Today I'm sharing a little knitted pattern and its made with dropped stitches. I love drop stitch. Ninety-nine percent of the time the last thing you want in your knitting is a dropped stitch. Then there is the one percent of the time when you do it on purpose. Dropping your stitches on purpose is so counter-culture. It will make you feel like a rebel. It will make you feel like the James Dean of knitting!
---
One note before we get to the pattern: There is more than one kind of drop stitch in knitting. Too bad they are all called the same thing because that gets confusing. Sometimes "drop stitch" means that you will drop a stitch off the needles and let it run down for several rows. What happens in that case is the running bar between stitches is exposed for several rows. The Clapotis is made like that. (Its a free pattern and a classic and you should check it out. I've made three Clapotis. They are lovely.)
Then there is the super easy way to make drop stitches and that is the method I used in my headband. The basic technique is to add in a bunch of yarn-overs on one row. One the following row, all those yarn overs are dropped off the left needle. You don't knit/purl them. Just let 'em fall. The result is all the non-yarn over stitches get stretched out and big. The more yarn overs you add in and let drop, the more stretched out the remaining stitches become.
If you're ready to give drop stitches a try (you maverick!) here is a quick-ee of a pattern with a photo tutorial.
---
Drop Stitch Headband
Yarn: approximately 15g of worsted weight yarn
Needles: US size 8 (5mm)
Sizes: small (stretches to 20 – 22 inches) and large (stretches to 22 – 24 inches)
Stitch Key
k – knit
kfb – knit front and back (an increase). Knit into the front loop of the next stitch but do not remove from the left needle. Knit into the back loop of the same stitch. Then slide off left needle.
ssk – slip, slip knit (a decrease). Slip next two stitches as if to knit one at a time. Then insert the left tip into the front loops of the two slipped stitches. Knit them together.
k2tog – knit 2 together (a decrease). Knit next two stitches together.
YO – yarn over (an increase).
Cast On 4 stitches
Beginning wedge
Row 1: k1, kfb twice, k1 (6 sts)
Row 2: k to end
Row 3: k1, kfb, k until 2 sts remain, kfb, k1 (8 sts)
Row 4: k to end
Repeat  Rows 3 & 4 four more times (should have 16 sts).
Drop Stitch Section
Row 1: k1, *yo, k1* to end
Row 2: k the knits (from previous row) and let all YO's drop
When you get to the end of this row, stretch out the work and you'll see the knit stitches are a bit bigger then the should be…
Rows 3 & 4: k to end
Row 5: k1 *YO twice, k1* to end
Row 6: k the knits (from previous row) and let all YO's drop
Row 7 & 8 : k to end
Row 9: k1, *YO three times, k1* to end
Row 10: k the knits (from previous row) and let all YO's drop
Rows 11 & 12 : k to end
Repeat Rows 9 – 12 three more times (four more times for the large size).
Then work Rows 5 – 8, followed by Rows 1 & 2 (but not 3 & 4).
Ending Wedge
Row 1: k1, ssk, k until 3 sts remain, k2tog, k1 (14 sts)
Row 2: k to end
Row 3: k1, ssk, k until 3 sts remain, k2tog, k1 (12 sts)
Row 4: k to end
Repeat Rows 3 & 4 until 4 sts are left. Then bind off, and use tail to sew cast on edge to bind off edge.
Now you have a highly effective hair-frizz control device should you need one. And you're an expert on dropping stitches… on purpose. This is a technique you can use in any plain garter stitch or plain stockinette stitch pattern to jazz things up. I think its excellent for showing off a variegated yarn.
Like tutorials? You can find all my how-to posts right here.
---
What Are the Roving Crafters Buying?
When you make a purchase from one of my affiliates, I get a small commission. It doesn't change the final price at all but it does help support this site and keep it free. Here is what some of my readers have bought (and a big thank-you to them!).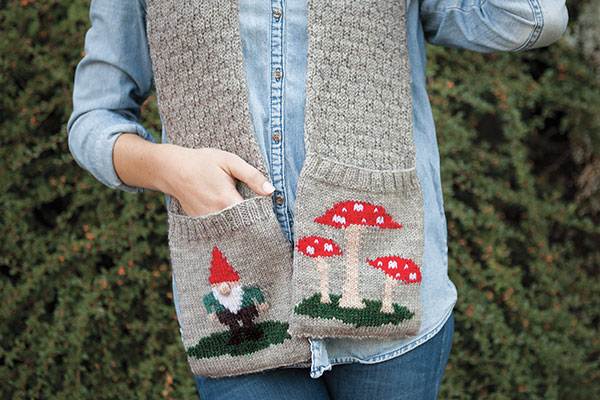 Gnome and Toadstool Scarf pattern
$4.99 @ Knitpicks


Knitting Needle Point Protectors
from: Knit Picks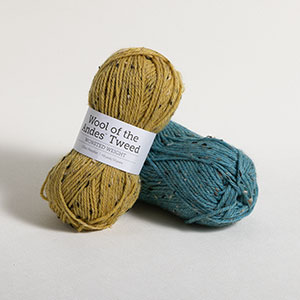 Wool of the Andes Tweed Yarn
from: Knit Picks

Lace Knitting: Basics and Beyond
from: Craftsy

Want a link to this post?