So this is my dead-tree pattern collection. That's what I call the patterns that I have printed copies of. I supposes all of the patterns in my books and magazines are dead-tree pattern too but they are much easier to keep track off. They live on the bookshelf. These dead-tree patterns live under my coffee table.
Yeah it is pretty shameful. I do the yarn thing semi-professionally and I should do a better job of keeping my printed patterns organized. I've been meaning to get around to organizing this collection mess for about… 6 months. Then the day came and I had a choice between cleaning and organizing.
I'm sure you already know which task got done. Exactly. Organizing is more fun than cleaning!
So I pulled out an empty binder and a three-hole punch and set to work.
It turns out I had some pretty nifty stuff in that collection mess, stuff I had completely forgotten about. Stuff like:
an article on Andean plying. Andean plying is a way to play from two ends of the same ball. You know, I've been meaning to write a post about that.
notes for three original designs that I knitted up and, errrrr, gave away. I should probably look through those and see if I want to make those again/publish them.
the Pixie Purse pattern from Knit Picks. Oooooo I remember this now! I loved this pattern. I was going to make up a bunch of these little coin purses and have them ready for when I needed a last minute gift.
That still seems like a good plan.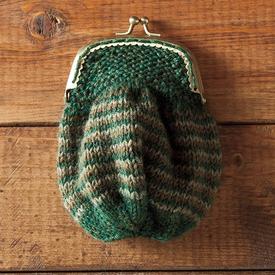 And I do have at least one purse frame in my craft drawer waiting for a purse to be made so I can attach it. All I need to do is find some fingering weight yarn…
… and I seem to have some.
So I'm casting on for my Pixie Purse. After that I may head out to get more purse frames.
See? I told you organizing was more fun than cleaning.

Want a link to this post?