Chances are that if you're reading this, you are the crafter. But maybe you'll send it on to a loved one who doesn't know what to buy you. Or maybe you'll take it as the push you need and tell said loved what you'd actually like to see under your Christmas tree. Or maybe  you'll just go buy it for yourself. Psst…. I'd go with that last option!
Crafters need bags
You thought I was going to say yarn didn't ya? Well, yes we do need the yarn. But I've known plenty of knitters and crocheters who complain about the size of their stash. they worry that they probably have too much yarn already. (It does not stop them from buying more. Oh no! And why should it?) But I have never, ever, in all my years of crafting ever heard one say they had too many bags.
Crafters need bags and a lot of them. We need bags in every size and shape.
We need project bags to hold all of our WIPs. Hiya Hiya makes some nice pretty little project bags with zipper closures.  Boye makes a Yarn On the Go Bag.  You can find both of these on Amazon and, with their shipping prowess, you can maybe get then in in time for Christmas.
Hiya Hiya Small Project Bag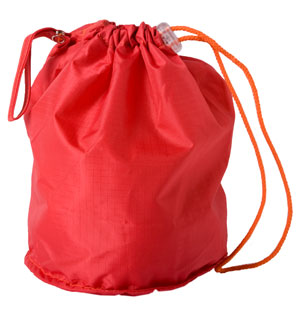 Boye's Yarn On The Go Bag
However, the absolute best place to find project bags is at your Local Yarn Shop. I betcha they got stacks of them.  They tend to be hand made and look like  pillow cases with drawstrings. If you go that route, buy several!
After project bags, crafters need little pouches to hold all our cool toys! Err, I mean tools and accessories. We have tapestry needles and tape measures and safety pins and needles and hooks and stitch markers and row counters and…ok I'll stop. Point is there is a lot of it and it tends to get unruly and disorganized and LOST if we don't have it bagged up. Thityonegifts has more zippered pouches than you can shake a stick at. The Container Store has zippered vinyl and mesh bags that would be perfect. Walmart (yes Walmart) has great pouches for crafters, they just sell them in the school supply section. Check out these pencil pouches.
After that we need great big totes to put all our smaller bags into so we can carry everything all at the same time. You can get some really sassy totes from cafepress. Those are fun.
Or you can go a bit upscale. I know several knitters that have moved their crafting supplies into Vera Bradley's. Plenty of retail outlets carry Vera Bradley (and I'm sure even more carry Bradley look-a-likes). Try the nearest Barnes and Noble, Hallmark or Macy's.
Bags. That's the sure to please gift! I've lost count of the number of knitters and crocheters that describe themselves are "bag ladies", "bag whores", and "bag addicts". If you have a crafter in your life, chances are very good that crafter needs a new bag. Or possibly a dozen.

Want a link to this post?