A crafter's choice of tools reveals their soul! Like a palm reader sitting behind a cloud of patchouli incense, I can divine all sorts of things about you from your favorite stitching tools.
What are your needles and hooks saying about you? Step into my charmingly cluttered yarn studio and find out. Please excuse the massive yarn tangle hanging off the ball winder. That skein was misbehaving and now its on a time out.
That's right! You're on a time out aren't you? So you just sit there and think about what you did, Kid Mohair!
Now then. Tell me about your favorite, go to stitchin' tools.
Gimme That Old Time Religion Aluminium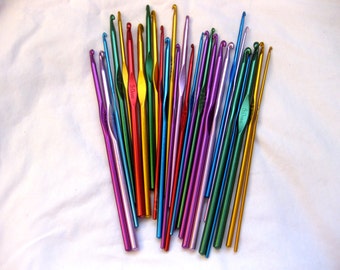 Have a complete set of aluminum Boyle hooks do you? (Me too.) Still using that first pair of knitting needles that came with the Learn How to Knit In a Weekend! kit from the kiddie section of the craft store? I see.
You've got reliable instincts and love for honesty. When you listen to your gut, things go your way. You know where you stand on all the issues and while you can politely listen to other crafters talk about their politics or fancy-smancy hooks, you don't really care. You know what you like.
Stay with that. Stichers using cheapie hooks and needles finish things! Oh yes, your a one-project kinda crafter aren't you? I can tell. Having more than one WIP makes you feel like a flibergibit. Here is my advice for happy crafting:
Collect a hook/needle in every color. You should have a size F in red, blue, purple, gold, green…
Never pay for a pattern when there are so many free ones out there
Buy the most luscious yarn you can afford. Then go to knit night with your lovely yarn and amazingly intricate pattern you found for free on a Japanese craft blog and make it with your $2.50 needles. Then smile smugly.
Why Settle For One Point When You Can Have Two? (aka lovin' the double pointed needles)
Knit needles with cords are for sweaters you say? Socks should be on double points? If you start a hat on double points, you can keep it on double points all the way to the end?
I hear ya. I'm listening. Really I am because I know that double point lovers have important things to say! You have a love of precision, of accuracy. Its important to get things just right. If people aren't interested in that and in what you are doing, that's okay. You'll just go find other people. And that would be a real shame because you have such an inquisitive mind that you always have something interesting to add to the conversation.
Beware of boredom. That brain of yours needs to be fed a steady diet of new and interesting. Try this:
Have more than one project going at all times. You need something easy and something challenging. Have a WIP that's for you on one set of needles and a gift on another. Go back and forth. Mix it up!
Wear your double points with pride. I mean that literally. If you are making a sock, push your hand through it, wear it on your arm like a gauntlet. Try that hat on and model while it is still a crown of thorns. Why would you do this? Because you couldn't wear any of this stuff if it was on corded needles, lol. Gotta show off
Speaking of showing off, if you make a sock on size 2 double pointed needles (or smaller) around non-knitters they will ALL think you are performing a feat of pure magic right in front of them. Really, if you work with needles the size of toothpicks and lots of them all at once, no non-knitter will be able to figure out how you are doing it. (Psst… don't tell them its easy. Just smile smugly.)
After I Stab you with the Point, I can Strangle You With the Cord (aka loving the circular needles)
I can see that you have a size 8 needle with a 24 inch cord. Do you have one in 16 inches as well? Oh good. How about a 40 inch? I see. So you have three versions of a size 8 in-the-round-needle taking up space in your knit bag. (Me too.)
That's okay because I'm sure you have a cleverly devised scheme for storing and organizing all those corded needles. You are, after all, on a life-long mission to smooth out all the rough edges in this world and make things beautiful and perfect aren't you? I bet you show people you love them by putting away their laundry… perfectly folded of course!
Magic looping, with exciting side adventures into double circular knitting, is all about smooth seamless transitions. Stitch after stitch, round after round just glide past under your hands. Its about the enjoying the process as much as the finished product, right? Right. Keep the frustration confined to regular life and make crafting you personal happy space with theses tips:
Get a routine and stick with it! Put aside time to just knit. If you try and do a few rounds here and there while a zillion distractions rage around you, you'll get frustrated and probably take it out of your knitting by frogging. Poor knitting! So put the world on pause and just knit.
Have a que. Get your future projects lined up in little bags so they are ready to go! You'll love the feeling of being so organized and it will keep you moving from one project to another.
Give yourself an easy, just-knit, project every now and then. Use a gorgeous, colorful yarn and make something in stockinette. It will go super fast, like lightning. Do this at knit night in front of your friends and when they say "Oh my God, are you almost done with that hat already?" Then you just… smile smugly.
Gimme a Handcrafted Tool for my Handcrafting!
Oh yes. Oooohhhh yessssss. You are the hooker with the hand carved H hook from Furls aren't you? Is that an antique carved bone hook I see peeking out of your stash bag? Its a good thing my momma raised an honest girl or I would have pinched that the moment you walked in.
You won't be truly satisfied until you have a hand-carved hook, fitted perfectly for your palm, in every size. But you already know that. After all, you know exactly what you want in a crochet hook (and in everything else) don't you? I know that its not about being snotty or having a collection of expensive things. You're seeking balance. You don't expect people/yarn/patterns to work for you. You expect them to work with you. You're easy to get along with because you make the effort to be in harmony with your environment.  I bet lots of people call you friend but privately you would only call a very few friend back.
Here are a few hints for harmonious hooking:
Don't be afraid to have many, many WIPs going. Don't beat yourself up over frogging.  Pictures are misleading and you won't know if you want to actually make/finish/own the piece until you've started it. That's because what you are looking for is not only how a pattern looks and wears but how it moves and flows. Gotta start it, give it a try, and see.
I have three words for you: free form crochet.
Look back at what you've made in the past…. identify a favorite… and make it again. But this time do something, just a little something, different, Try a standing double crochet on the edges or make it with two strands of yarn held together, or put a backwards half-double crochet edging on it. Make that pattern your own. make it better. Then… you guessed it.. smile smugly.
---
Well I have to toss you out of the studio now. I have students waiting on me. Also I'm out of coffee. Also I have to go lecture that Kid Mohiar some more. Feel free to stop by again.
What's that? You don't have a favorite hook or needle? You like them all? Well, yeah me too. Know what that makes us? Flakes! We can't make up our minds and we never know who we are. You and me are like that kid in school who is a different person depending on who they hang out with. But the up side? We have REALLY BIG needle and hook collections!
---
---

Want a link to this post?