The Highland Knits book came out last week. Did you hear about that? I did. Of course I had been waiting for it ever since it was announced last October (I think it was October). Waiting and not very patiently.
The Highland Knit book is a collection of patterns from Interweave inspired by the hit TV show Outlander. That show has inspired quite a few knit and crochet patterns (and if you follow the link you'll find an old post of mine where I round up some of the better ones). The characters on the show wear lots of knitting. Knitters and crocheters feel the need to copy pretty much every yarn-y thing that makes it on to TV.
I'm down with that. And I like the show, Outlander. Its not on my must-see list but its historical, the lead actress is talented, it features hunky guys who sometimes take their shirts off, and there is lots of on-screen knitting. So I was quite looking forward to Highland Knits pattern book.
The book was released, I got my first look, and I was pleased. The promotional pictures came filtering in to my email and they were about what I expected. Models that looked vaguely like the lead actress showing off knit-wear against a backdrop of wild and beautiful country. If you follow this link, you see thumbnails of all 16 designs.
Pretty right? But I've decided to pass. I've decided to be disappointed and a bit grumpy about this. I've decided to write what is only my second negative review on this blog (so far).
First, its all knit patterns. No crochet. While that isn't too surprising, it is a bit of a let down. Also I think its a bad decision. If you browse ravelry you'll find that plenty of happy crocheters have happily created crochet versions of the knitwear from that show. Why would the publishers ignore that section of their yarn-loving customers? Beats me.
But the real issue is sizes. These patterns, including the ones that need to fit to your body, only come in one size. Why? whywhywhy?
I saw that these came in only one size and thought "huh". They do look stretchy. The undersides would appear to be plain knitting so I'm sure you could sneak in extra stitches there. I guess most knitters could make this pattern work with some experimenting and pre-planning.
Now I know shrugs are not one size fits all. I've made shrugs before, at least four that I can think of, and one of them had to be given away because it came out too big and fell off when I tried to wear it. Shrugs like this have to fit snug across the shoulders and be a bit tight in the armpits. But if they are too tight, you can't get them on. So this is a pattern that would probably have to modified by the knitter as well.
Really? "One size fits most" is a cop-out in my experience. Its vague and vaguely insulting. How can any one garment that fits across the shoulders, over the stomach, and down past your butt fit most people? Maybe their understanding of the word "fit" is anything from wear-it-like-a-blanket to I can-squeeze-my-arms-in-so-that-counts. It certainly won't fit "most" in the way that it fits this model.
And here we have a one-size-for-everyone sock. Because we all know feet only come in one size, right? Calfs too. There is certainly no need to provide sizing instructions for something that has to fit with negative ease to stay up all the way from your ankle to your knee.
And that's when I quit looking. After that, I knew I wouldn't be getting Highland Knits.
---
Yes, there are other patterns in this book that don't need to fit at all, like shawls and capes. I don't have any problems with those. Also, I'm sure that the four fitted garnets above would be easy (or easy-ish) to modify for size as needed. But is that really what you expect from a pattern book by Interweave? From patterns that you have to pay for? Its regularly $23 by the way. Knit Picks is selling hard copies for $16.09 and amazon is selling the digital version for $11.99. But even so, I don't want to pay $16/$12 for a bunch of patterns that I have to modify.
For the record, I had a plan. The plan was to buy this pattern book and then post a glowing… glowing!… review of it here. Next I was going to launch a Outlander Knit-A-Long where we could all pick a pattern and cast on. Then I'd put up a post, like an open thread, every night that the new episodes aired. We could all chat and knit and watch the show together and share pictures of how our Outlander knits were coming along. It was a pretty nifty plan and now I'm feeling grumpy because there is no way I can recommend this pattern book.
Also for the record, I certainly don't blame the designers for any of this. I'm certain each and every one of them is capable of providing designs that come in multiple sizes. This seems more like one of those bone-head, executive decisions. Or may they just fell behind in the publishing schedule and rushed the book out.
Those are my thoughts and I wanted to share. If you do buy Highland Knits, at least now you know what you are getting.
---
What are the Roving Crafters buying?
(not Highland Knits I hope)
When you make a purchase from one of my affiliates, I get a small commission. It doesn't change the final price at all but it does help support this site and keep it free. Here is what some of my readers have bought (and a big thank-you to them!).


Soft Touch Crochet Hooks

Cloudborn Highland Superwash Sock Twist Yarn


8″ Caspian Double Pointed Needles

Lace Knitting: Basics and Beyond


Socktacular!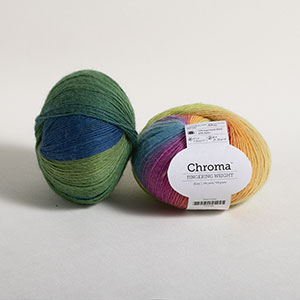 Chroma Fingering Yarn

Knitting Around

Want a link to this post?