Happy Day-After-Christmas to you! How did you make out? Did you get lots of presents and food and alcohol? I did. Well, I didn't get any alcohol because Mom and I kind of forgot about that part of the holidays until the day before Christmas. We went be-bopping into a liquor store after church ( I know! We are bad girls.) to get some eggnog and found that they had sold out. Then we had to endure a mini-lecture from a very helpful store clerk with no front teeth about how everyone stocks up early on holiday booze so they can tolerate their out-of-town relatives.
As the out-of-town relative I took some offensive to that. So I said "Oh bless your heart" very, very sweetly, which all southern ladies know is a mortal insult, and we went home with no booze.
But that's okay. We didn't miss it. I'd rather have coffee anyway. And since one of my Christmas presents was ten pounds of my favorite coffee I'm in no danger of running out anytime soon. In fact I never have to sleep again if I don't want to.
I also got a tiny back-strap loom, toy, starter loom for a kid for Christmas.  I have done some weaving in the past but that was long ago. I've been avoiding weaving not because I'm not interested (I am) but because I fear one more craft will bury me. But now I have my kiddie loom, and cards for tablet weaving, and I am morally obliged to put it all to use, right? Right.
The Feline Overlord and her sidekick Cowardly Boy Cat have adjusted to their holiday lodgings. They seem to have settled into a routine of sleeping all day and rampaging all night. There are two other cats in this house you see and nights are for knocking things over and crashing into holiday decorations and breaking into the containers of dry cat food to eat three days worth of food. I haven't been doing much sleeping but that's okay because… I have ten pounds of coffee. .
I have been doing some knitting. I'm making squares for my Hue Shift Afghan. So far I have 33 done. But that's 33 out of 100 so I need to keep at it.
The pattern is from KnitPicks. Here is how the afghan should look when its all grown up: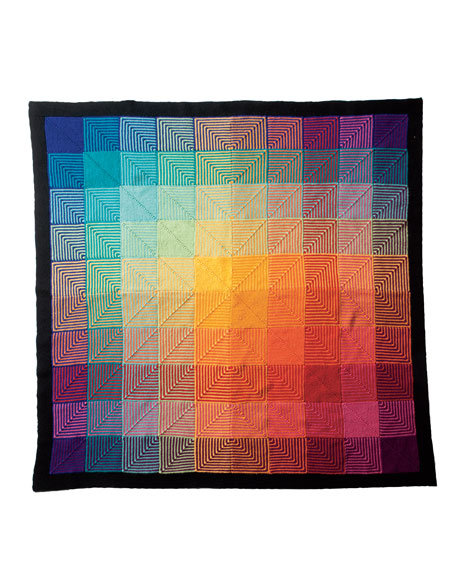 Finally I spent a bit of time with my camera getting a picture of the neighborhood roadrunner. I've named him/her Scooter. Scooter's hunting territory includes Mom's house and he/she will come right up to you. They are so freaking fast they can afford to be bold. Scooter knew that he/she could run up, get a good look at me, and be gone before I could take two steps.
Hope everyone is having a safe and happy holiday. Give my love to all your family and fur-babies.

Want a link to this post?